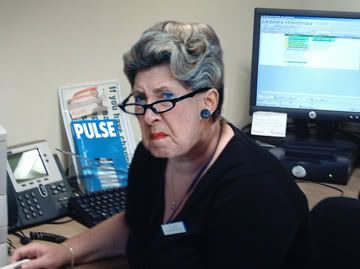 What is it about Doctor's receptionists that their sole duty seems to be to prevent you from actually seeing your doctor?
Yesterday, Tuesday, I phoned to make an appointment only to be told "We're fully booked you'll have to phone back tomorrow at 8.15". Not entirely unexpected, that seems to be par for the course. It's not urgent, just something I need to discuss so I was quite happy to try again.
So this morning , Wednesday, I try again, at 8.25a.m. I actually get through on my 3rd attempt, which was promising.
Me: "Hello can I make an appointment to see the doctor please, as late in the afternoon as he can make it"
Doctor's Evil Receptionist: " Sorry he's fully booked, you'll have to ring back tomorrow morning"
Me: "I just have"
DER: "Sorry?"
Me: "That's what you told me yesterday, now it's tomorrow so I've just rung back"
DER: "So have lots of others, he's fully booked today you'll have to try again tomorrow, we can only make appointments on the day"
(It's still onl 8.27, it appears my doctor sells out faster than a Michael Jackson farewell concert.)
Me: " What is it with this stupid system? "
DER: "Is it urgent? I can arrange for him to come and see you"
Me: "No it's not urgent I just need to discuss something with the doctor. I work six days a week, surely it's not too hard to make an appointment at a time that suits both me and the doctor and write it in the diary. I don't care if it's tomorrow, the next day, or next week".
DER: " I'm afraid we can only make appointments on the day"
Me: remembering the sales mantra of whoever breaks the silence loses, stays firmly silent.
DER: " I can do you 5pm Friday"
Me: "Anything later?"
DER: "5.10?"
Me: "Fine, thanks I'll be there"
Why oh why is it so bleeding difficult?