With the whole England set-up in total disarray and my own team, Southampton, acting in a pretty similar manner, it's time to give my "second favourite team" a mention.
Everyone has to have a "second favourite team" and they are often picked for the strangest of reasons, first team seen, like the kit, worked there for a while, great-grandad played for them etc etc.
Well mine is that other SFC
Stenhousemuir
. An obscure choice, a team forever in the lower reaches of the Scottish Leagues, but a team who's result I look for every week.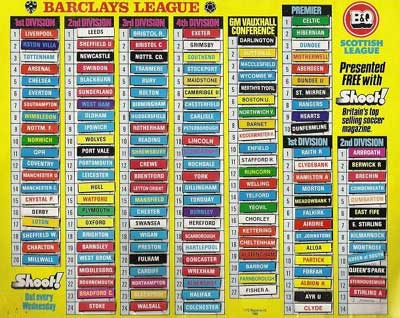 "Why them ?" I hear you ask.
It all stems from when I was a young boy in the late 60s/early 70s. Every lad my age interested in football will remember Shoot! magazine. Every year they produced a set of League Ladders similar to this one. Every team was printed on a "T" shaped tab that you pushed out of a card sheet and inserted them into the slots in their various leagues and re-arranged their positions depending on that Saturday's results. An exciting innovation for a schoolboy in the pre-computer and video game era. A printing error must have occurred because out of all of the clubs included Stenhousemuir was the only one whose tab hadn't been die-cut, I had to remove it from the card with scissors. I knew nothing about them but that was enough for their name to stick in my memory.
A couple of years later I discovered a "fascinating fact". When the main stand at
Ochilview Park
was built the architect forgot to put in any stairs for the supporters to gain access to the seats. This was the sort of quirkiness that I love and forever more Stenhousemuir has been the second result I look for every weekend (well just lately it's been the first, I don't need to look for Southampton's I
know
they will have lost).
They have done virtually nothing in all that time - promoted after finishing division 3 runners-up in the late 90s (soon to return from whence they came) and winning a couple of obscure cup competitions in the same decade . There have been plenty of seasons when promotion has looked a mere formality only for them to snatch defeat from the jaws of victory with a (one wonders if it is deliberate it happens so often) late season slump.
One day I hope to visit Scotland and take in a game. With crowds usually well under 1000 you can hardly get more back to grass roots than that. In the meantime I'll continue keeping an eye on their results, today they are at home to the mighty Forfar Athletic.
Come On You Warriors !